Google Drive has become a relevant part of our efficiency. It helps us save a lot of space, it lets us access our files easier, it consolidates all our files in one area, and a lot more. The application has really been an essential for both students and workers. Although the heaven-like application is just at the tip of our fingers, its end is near.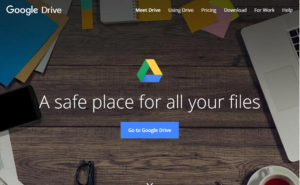 Yes, you read it right. Google Drive has its date and if you're among the millions who utilize it very often, it's time for you to switch up.
Just this July, Google made the announcement that they're replacing the Google Drive software with Backup and Sync for personal computers. Although the use is the same as Google Drive, Backup and Sync actually boots in more files. On Thursday, September 7th, they detailed their plan and concluded that they'll stop supporting Google Drive on December 11th; they'll completely shutdown on March 8th of next year, 2018.
With this strategy, Google can now focus on synchronizing files you've stored on your device or documents in your folders. In addition, all your photos will be then part of Google Photos.
Furthermore, this new approach reflects and emphasizes on the growing importance of cloud-based services. Thus, you can now be sure that the files you have will no longer be floating around the web without you knowing exactly where it is.
Google made the announcement for IT administrators and offices who utilize and offer Google's G Suite productivity tools to employees. Since the final days can now be counted, these offices have ample time to upgrade and look for an alternative. If you're part of those offices or employees, one option you can consider is File Stream.
File Stream simply lets organizations store files exclusively in the cloud. They then continue streaming them to laptops when you're working on them and keeping your storage space unencumbered. If you're not one of those employees, then simply don't worry about it.
Alternative to the Drive, you can install Backup and Sync now if you want to. After all, the time will come when you have to make the change so, why postpone it?
So gather these information and spread the knowledge because there might be people who solely rely on Google Drive for their productivity. Moreover, there may be people who merely utilizes Google Drive for EVERY SINGLE THING. Better break the ice to them now before it's too late.
Source: cNet