Facebook Live is new to the very young world of live streaming and it is even considered art, making it possible for all the site's users to broadcast videos of almost anything to a very huge audience.  In this way, a user can interact with viewers in real time where they can ask questions and post comments to capture their live reaction.
But what if the live streaming has something to do with violent videos, horrible c****s and suicides? Since Facebook Live have been helpful in the fight on social injustices.
In Memphis, Tennessee, a musician d**d after dousing himself in kerosene and lighting himself on fire before running inside a crowded bar early Saturday, May 13, according to local authorities of the Memphis Police Department.  The MPD told FOX13 that it was a s*****e; the event was streamed on Facebook Live.
Jared McLemore, 33, set himself on fire in an effort to commit s*****e on Facebook Live. Shortly after he set himself on fire then he ran into a next-door bar, Murphy's Bar in Midtown Memphis, where his ex-girlfriend Alyssa Moore was working.  He was reportedly rushed to a local hospital in critical condition for severe burns and later d**d from his injuries.
Moore is a self-employed audio engineer. She was just a couple away from the dreadful scene.
"It was the most horrific thing I've seen," said Kimberly Koehler who was playing a show at the bar. Witnesses said the incident occurred around 12:30 a.m., Saturday morning.  At least one individual could be seen attempting to intervene during the Facebook Live feed before McLemore burst into flames and ran out view of the video.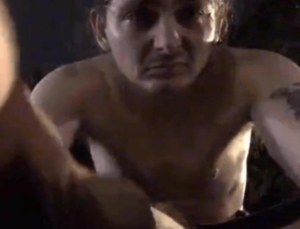 The video shows McLemore seated while he pours kerosene all over his body then lights himself on fire and ran out off screen.  Upon entering Murphy's bar, a number of patrons reportedly attempted to put out the flames with their shirts, local news station WREG reported Saturday.
"It looked like a movie, like someone wearing a flame-retardant suit," said Koehler.
Jim Duckworth, Koehler's band-mate and boyfriend, who was also present, told WREG that "the "overwhelming smell of kerosene filled the room. Before you see anything, the smell filled the room."
Duckworth added, "There were some people who even thought that it was a joke."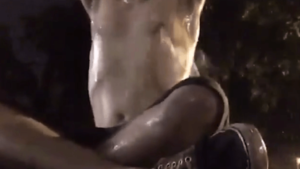 McLemore reportedly had a history of domestic violence against Moore, who works as an audio engineer and owns a recording studio. There were court records which indicate that McLemore was arrested in August 2016 after strangling Moore and threatening to k**l her on two different occasions in a 24-hour period. He was placed on probation in April and ordered to undergo mental evaluations. It's not clear whether McLemore abided with the order.
The witnesses told police that McLemore was on fire from head to foot when he ran inside the bar. In addition, a man who tried to kick the lighter out of McLemore's hands inside the bar was burned. He was then taken to the hospital for full recovery.
Koehler said that McLemore's target was Moore who was working in that bar.  Koehler added, "He believed that s*****e would be the ultimate revenge on her."
McLemore approached Moore and mumbled something about 'goodbye,' then grabbed her arm and wiped it on his chest to show he was covered in kerosene.
The community raised more than $18,000 for the woman so she could attend trauma therapy and replace her audio equipment which was damage in the fire.
McLemore's family said in a statement, "No one knows how devastating this is for family to see on video and being reminded over and over in social media."
"Jared was our child, brother, nephew, cousin and friend and we loved him immensely," the family said.  "He has been struggling with bipolar disorder for 19 years and was in active treatment. Please let him rest in peace," they added.
No matter what " live video" on social media specifically Facebook live appears to be here to stay but because of the recent epidemic of violent and abusive substance appearing on it, including kidnapping, assassinate and torture Facebook Chief Executive Mark Zuckerberg publicized last week that he would be employing 3,000 human moderators to his 4,500-strong team.