Flash drives have become a necessity in today's generation. As a matter of fact, most people in most if not all, industries use it. It is known as something that can carry millions of dollars because of the fact that it stores information. A lot of people rely on flash drives for their data because you can actually store thousands of files in it, depending on the size of the files and the storage capacity of the flash drives.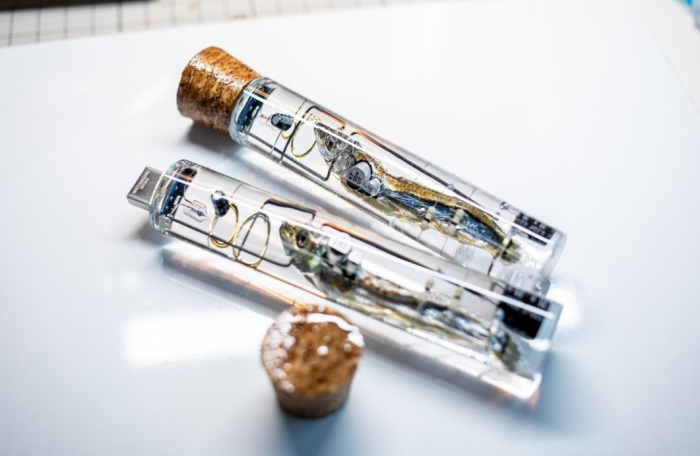 But have you ever heard of a flash drive that has a design of a small fish and has a storage of its brain? I know, it seems pretty unusual but what if I told you that someone managed to create it? Can you imagine what it looks like and how it functions?
Read: Cities in the World That Takes the Most Selfies, TIME
Before we dive into things, let us first look at the feasibility of it. To give you some sort of a brief description of what a flash drive is, it is the tool that holds or carries files and is used as a medium to be able to transfer files from one source to another.
It is most common referred to as a USB or a Universal Serial Bus. Although it is not incorrect, tech-savvy people refer to it as a flash drive. A bigger and a better version, which is called a hard drive, is a larger flash drive that is has the same use as the flash drive.
A fish used as a flash drive? Is that even possible?
If you are thinking of a medium-sized to a large-sized fish, think again. The fish we are talking about in this context is a small fish. Japanese twitter user with the username @ni28_xp said that a development and an innovation of a new design of a USB drive uses a small fish as its physical design and its brain as its storage. However, some reports said that the body of the fish is only used for purposes of aesthetics.
Who is @ni28_xp?
According to reports, @Ni28_xp is currently a chemistry student who is studying resins. The user said that this project would allow you to see the electronic parts connected to a small fish. These have been duly captured in a transparent resin. The fish inside the vessel is dead. However, the technology in it is allowing the device to use the small fish as an effective part of the overall design.
Read: Hand Dryers Contain Fecal Bacteria, You Unkowingly Blow it All Over Your Hands
If you are worrying about animal cruelty, don't fret. These species are silver-striped round herrings that actually came from markets. They really are made to be put on dinner tables and be viands for people so there's actually no harm done.
What does it look like?
I know that you might be wondering how this is possible. Don't worry, @Ni28_xp provided a close-up photo of how it looks like. More so, the user said shared a photo of how it looks like while it's being used through a GIF. Here's how it looks like:
この"生体メモリ"も、かつての鉱石メモリと同様、データの出入力時に紅く点滅するギミックがついている。 pic.twitter.com/ZicBULp3OP

— ニケルxp (@ni28_xp) December 28, 2018
As you can see, it's beautiful, flashy, and creepy at the same time. If you look at the picture, the light will flash every now and then and will reveal the shape and the entire design of the fish in the vessel. In the picture, it's kind of creepy because of the fact that the back light is red.
Is this flash drive currently being sold in the market?
As of the moment, this flash drive that looks like a fish will be sold and be in exhibit at the HandMade in Japan Fest 2019. This will take place at the Tokyo Big Sight on the 12th of January 2019. This thing is kind of a big deal because it's "grand opening" will be held at a Festival. By just that, we can assume that this is something that the Japanese are proud of.
How much would this flash drive be?
In the exhibit, it is reported that a piece would have a price of 7,800 yen! That is $72 dollars. If you are interested and you're looking to get a discount, you can follow him on his Twitter account! You can get a 20 percent discount off of this device!
Read: Study Reveals that Our Lips can Say Something About Our Personality
This innovation seems to be a bit odd, but it's stylish and new. With that, we can look forward to better innovations in the coming future. By now, you should already know that the device is not actually using a dead fish's brain for storage; it's just a design for the USB drive to have a fish in it. However, we can't deny that this can happen in the future because of the technology that we have.
What do you think about this fish USB drive? If you had the chance, would you be interested in getting a hold of one?