Although a lot of us might think that this is a hoax because hey, what place runs out of water? Unfortunately, this news can actually d***n most of you. Cape Town, South Africa's 2nd biggest city is facing a dilemma in terms of water supply right now. After three full years of groundbreaking thoughts, this time has now come. Approximately, the city has less than 90 days worth of water in its reservoirs. These storages, that supply to an estimated 4 million people in the city is slowly being cut down.
Isn't this just a scare?
Everyone hopes that this is just a scare in fact, Cape Town Mayor Patricia De Lille warns residents that unless they change their ways of utilizing water, the seaside source of Cape Town's water will soon run dry. Approximately at April 22, 2018, she says. If you're thinking how it's computed, well it's not fairly difficult. Every week, the governance calculates the consumption and capacity of these reservoirs. This computation is known to compute Day Zero, as they call it.
A few weeks back, the mayor had some slight modifications and adjusted the date down from April 29. Although obviously, the dams won't be at 0% and it can't be dried up until the last drop but when these reservoirs reach 13.5% capacity, municipal water supply will be cut out except for essential services like hospitals; this is as per the city authorities' command.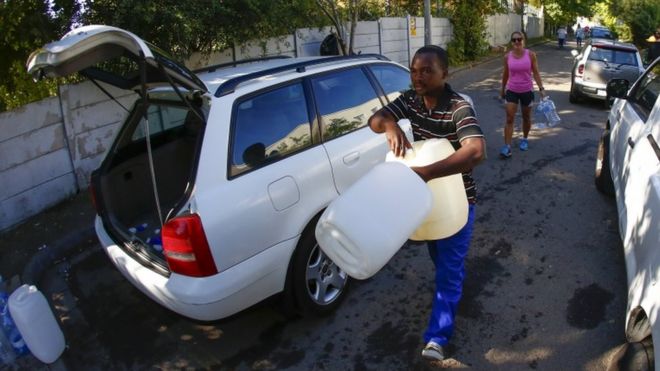 So what happens when these taps are turned off?
When the unthinkable happens, residents would have to go to municipal water points in cities where they can collect a maximum of 6.6 gallons per day. To moderate the commodity, there would be guards watching over the residents there. Nevertheless, the wealthy and those people who can afford would be taken care of by their government.
If you're thinking this wasn't prepared for, think again
A few months back, this alarming occurrence was already detected by the city. Which is why they told residents to cut back on water consumption. According to reports, only 54% of residents are hitting the targets and this is one of the main reasons why Day Zero is nearing.
City planners also knew this was coming so they imposed a bit of an ordeal with residents which again was not being met. Another thing is that because the Capetonian residents doubled over the past 20 years.
Researchers say that this is just one of the things world governments should be concerned about. Whether or not this comes to a close, citizens of South Africa's 2nd biggest city is starting to get a view of the norm.
Featured Image from enca