Plastic surgery addiction is the unending desire to change your physicality; it's basically unhappiness with your image. It comes from the root of being unhappy with yourself on the inside. If you think the surgery is going to solve the issue, well you have to back off a little bit and think again because it's more of a mental distortion of your image.
Even the people we look up to when it comes to aura and beauty has some stories to tell about their lives after undergoing plastic surgery. Here are celebrities who did not expect that plastic surgery will be more like negative than positive.
Melanie Griffith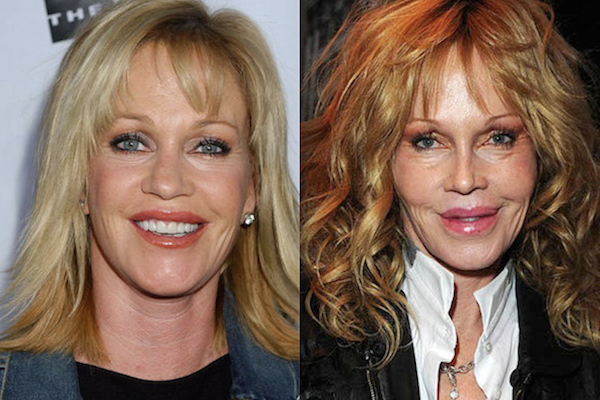 After being pictured in New York with a frozen-looking face, Melanie Griffith is the subject of surgery rumors yet again.
The actress didn't admit to having work done on her face but with her cheeks looking plump and forehead unlined, Melanie is definitely not looking her age.
Back in her heyday in late 1980s, Melanie was an A-lister who was considered by many in the industry to be the go-to girl for sexy. Then, the 1990s rolled around. To keep up with a completely new crop of sexy, ditzy blonde-haired women, such as Cameron Diaz and Kate Hudson, Melanie opted to undergo detox, an eyelid lift, and a few fillers. Now, not only are her roles rare, but she's also a regular target of internet trolls who dislike her looks.
Farrah Abraham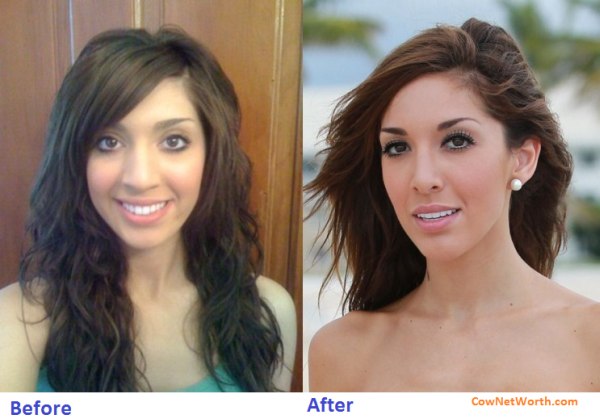 Farrah Abraham has been quite open about her plastic surgery procedures from nose jobs to chin implants.
Fans are accusing her of getting even more work done. "Leave your face alone. You're starting to look even worse than I thought possible," one user commented. "I didn't even recognize you! Yikes," another added.
When it comes to Farrah, the term "celeb" is being used loosely. Farrah got the chance to appear on "16 and Pregnant" and "Teen Mom". This is when things started to go easy. She's had a couple of nose jobs, three breast augmentations, and chin implants; a few surgeries that have drastically altered her appearance. Today, Farrah likes to think of herself as a huge star, but that's more fantasy than anything. She's actually best known for having a horrible attitude and excessively much plastic surgery.
Courtney Love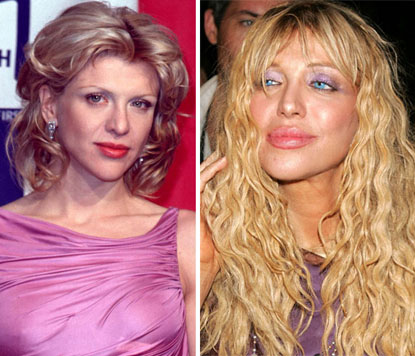 Her career was really on top when she was still a member of the groups Hole and Babes in Toyland. Moreover, as a wife of Kurt Cobain, Courtney's musical career in the 80s and 90s was nothing to be ashamed of but, things changed. Kurt d**d and Courtney turned to heavy d**g and a*****l use which might have been because of the fact that the love of her life passed. In addition to the vices she had, she dimmed herself into plastic surgery.
Courtney Love went from a harmless nose job, to what seems like lip fillers and a face-lift – and now she's practically unrecognizable.
A several rounds of Botox later were done to her, she's no longer known for music – now, she's known for her surgery, erratic behavior, and toxic relationship with her daughter.
Donatella Versace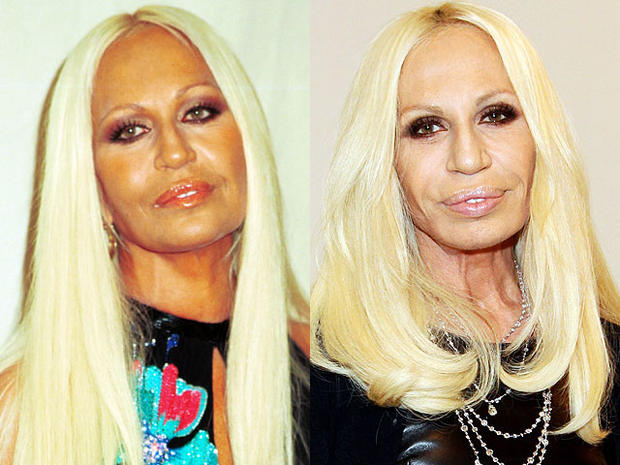 Donatella Versace is one of many celebrities who have just had too much work done to her face. The 60-year-old fashion designer has always been a beauty, even seemingly with the aid of plastic surgery, but eventually she went overboard – though she swears she's only had Botox.
As a member of one of fashion's elite families, Donatella was constantly around supermodels and other "pretty people", so it's completely understandable that she would feel a bit self-conscious.  What isn't normal is her appearance after her plastic surgery, which words can't explain.
Heidi Montag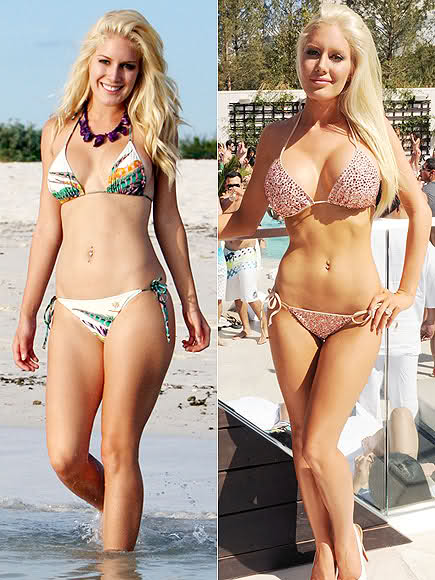 In 2010, Heidi had the following procedures done in a single day:
Nose job
Two breast enlargements
Brow lift
Chin shaved
Ears pinned
Back scooped out
Fat injected into her cheekbones
Liposuction in both inner and outer thighs
And her reason of doing it? According to her, she felt insecure when a doctor pointed out everything was wrong with her. Not only did those surgeries almost k**l her, but it also pretty much k****d any hopes she have had of a TV career. Today, she's best known for plastic surgery.
Mickey Rourke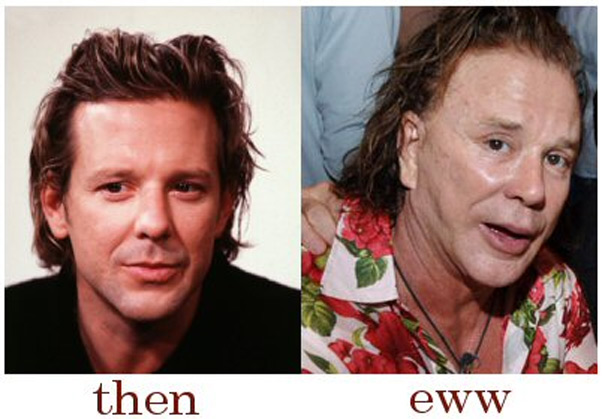 Mickey Rourke was a s*x symbol during his age and he admitted plastic surgery procedures have been done on his face.
After taking up drinking and boxing, his appearance looked a little worse, so he opted to undergo plastic surgery. He's had his nose re-shaped and re-built with five separate surgeries, and he's had cartilage removed from his ear. In addition to those, he also admitted to having facial reconstruction surgery done on his cheek.
The results were nothing short of horrific; his somewhat peculiar appearance put his career on hold. Today, he's had the procedures corrected and he looks better than he did, but he's history of being a s*x symbol has far gone behind him.
Lara Flynn Boyle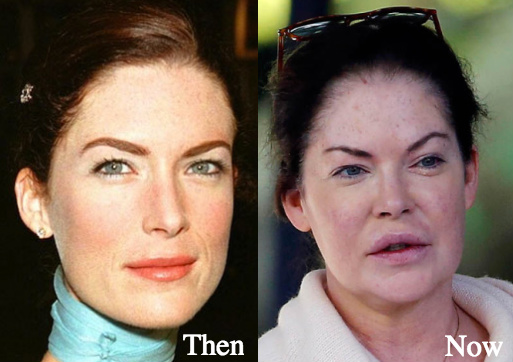 Lara Flynn Boyle has ever been considered one of the hottest women to walk the planet. However, rumor has it, which if you were watching close enough, signs of cosmetic surgeries started to produce up around the time she began dating actor Jack Nicholson in the early 2000s. Since then, it has gotten gradually worse.
She stated in an interview around the time of those initial procedures "there are just not that many roles for older women. On a vanity level, I am not looking forward to aging at all."
According to plastic surgeon Dr. Anthony Youn, "Her face looks like its melting." Now, she's rarely seen out in public and job offers are becoming rare.
Meg Ryan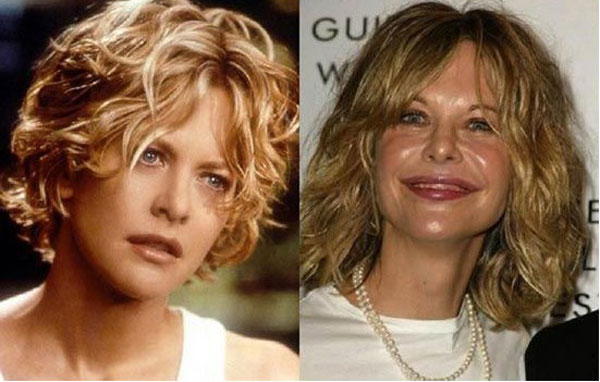 Meg fell into the same trap as Melanie and Lara. In an effort to look younger, Meg who was once considered America's Sweetheart, is rumored to have undergone a facelift and fillers, as well as Botox and laser resurfacing. Now, she's just a weird caricature of her former self. Sadly, all that work was to no avail because she has tons of wrinkles around her eyes even after everything. Meg hasn't starred in a movie since 2009.
One surgeon says that he worries that addiction may be the root of Meg's major change. "Plastic surgery addiction is a very real thing."
For those of you who are planning to try plastic surgery, well we are really not against it, it's just that you need to be cautious and careful because addiction is a thing. Once or twice won't hurt but multiple procedures that are to be done on your face can actually turn your life around in a not-so-good-way.
I guess it's true, too much of something is never a good thing.