Have you ever wondered what it's like to live in another country?  Or have you ever thought of yourself travelling and settling down to a place you feel you belong to?  Of course, you would have to consider a lot of things if this ever slipped your mind.  One of the more important things you have to think about is the cost because this is what would make you live.
A study made by MoveHub compared the costs of living in different parts of the globe.  This study focused on the costs of living around the world this year, 2017.
So how did MoveHub come up with this data?
MoveHub utilized figures from the latest Consumer Price Index (CPI) for them to be sure that their data is pinpoint.  CPI is known to be the world's largest database about cities and countries in the world so it is pretty accurate.
Based on the findings, the results are quite interesting and shocking.  To give you a heads up, the most expensive place to live in this 2017 is Bermuda.  Slightly behind it are Hong Kong, Iceland, and Switzerland. 
If you want to try and live the expensive life, travel to these cities and experience their lifestyles.  However, if you are thinking of keeping it light and inexpensive, you might want to try and live in Pakistan, Nepal, and India.  These countries are some of the more inexpensive place to live in.  If you want to go full throttle and live inexpensively, book a flight to Egypt as it is now deemed to be the country with the lowest living costs.
But how did CPI made these conclusions?
The Consumer Price Index considered everything that you need for living: food, rent, transportation, even the cost of utilities in each country.  They then broke these categories for further and more detailed analysis.
Let me give you a concrete example.  For transportation, they averaged and analyzed costs of:
Taxi Fares
Gas Prices
Bus tickets
Public Transport (Trains, etc.)
For groceries, they counted the basic stuff like rice, eggs, meat, milk, etc.  In addition to that, a*****l and liquor were part of the factors of groceries.
Water, heating and cooling, plus electricity were the factors of the utilities.  Aside from those, the Internet also played a role in the utilities.
According to MoveHub, the CPI in the infographic is an indicator of a country's living costs compared to the living costs of the famous New York City.  If a certain country has a CPI of 70, the average cost of living in that said country is 30% less than the cost of living in New York.
Sorry to keep you waiting.  Here's the information you have wanted all this time!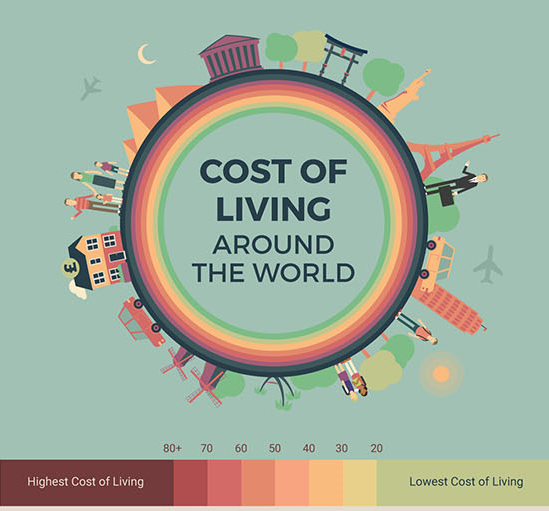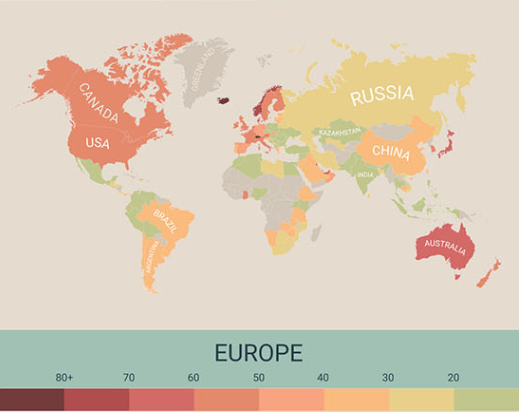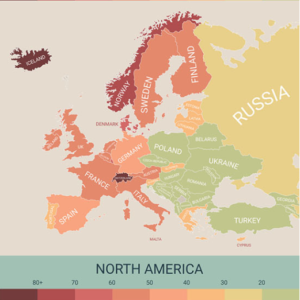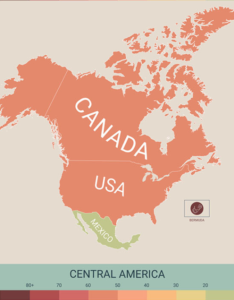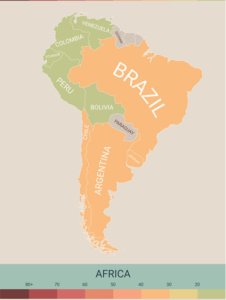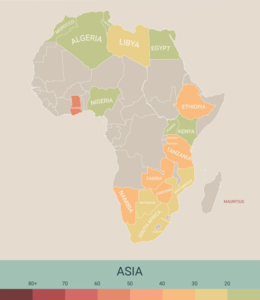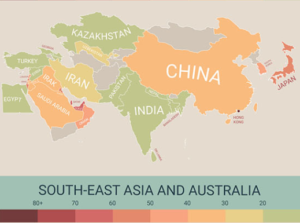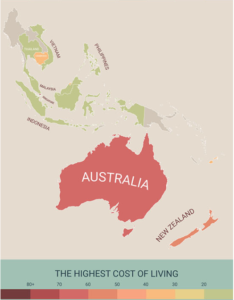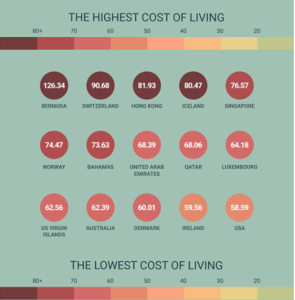 Photo credits to MoveHub.