Hong Kong residents were forced to live in tiny bunkers or what is popularly known as the "coffin homes" due to the sudden skyrocket increase of rentals which most of them cannot afford.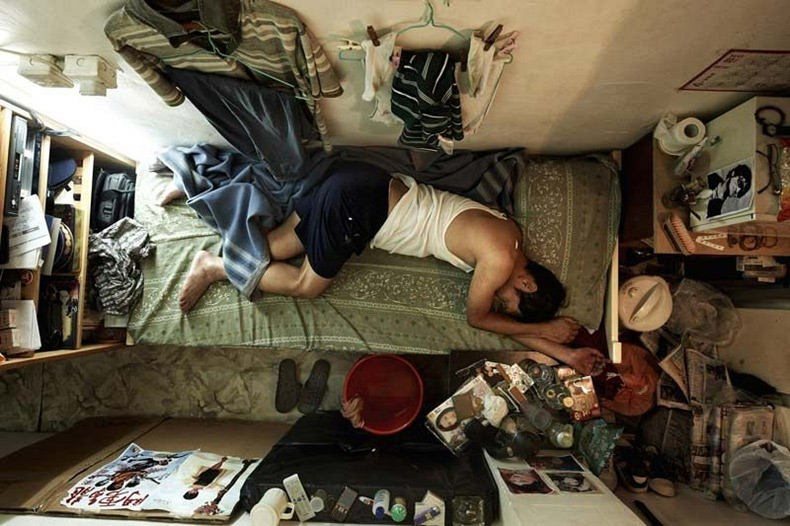 These are unseen tenements in the middle of multi-million dollar high-rise apartments and elegant shopping malls in the urban centers of Hong Kong. The poor people of the nation call them home even if the size is similar to that of a coffin; the treat it as their homes even if they barely fit.
One old man named Mark, 72 years old, who has been living in his coffin home for a decade says, "No one wants to live here but we need to survive. It's a step up from being on the streets." He pays more or less $150 per month for living in his coffin home and here are at least 20 tenants in the building where he stays. They share a common bathroom and everything. Mark is a Hongkong native who went bankrupt after a series of unsuccessful ventures in business and investments. He also told in his interview, "It's not that the Hongkong government can't help people like me who are part of the low-income society and need help, it's that they don't want to help people like us and solve problems like this."
There are in fact 1.2 million Hongkoong residents who currently lived in scarcity. They can skip meals, and take no notice of the dirt as long as there is a place for them to sleep. The only dilemma here is their security because being vulnerable in public is one risky idea. They're piled like sardines with no directives and if a fire were to start, they'd all be dead.
According to Home Affairs Spokesperson, Elain Chu, "The ordinance was not formulated to prohibit or illegalize bedspace apartments; it only mandates that the rented apartments meet the current fire and safety codes."
Another Hongkong native who dwells in a coffin home is Simon Wong – he pays $295 per month for this coffin-sized home and he's been trying to survive here for two decades now. The 61-year old man said, "It's been two years since I applied for public housing but I still haven't heard back. How long am I going to wait? I don't even know."
There are 300,000 people in Hong Kong are currently waiting for public housing. In addition to that, many wait in cramped spaces like the coffin homes.
In reality, the issue about rent is getting unreasonable not only in Hong Kong but everywhere. This seems to be hard to imagine but if you're on a budget in Hong Kong living in a coffin-sized homes may be the way to go. What would you feel if that happened to your city? Are you going to survive the crisis by living inside a coffin?