We can't deny the fact that sometimes, we tend to use our laptops or PCs more than our smartphones. Well, in our jobs we really can't rely on our smartphones alone, right? And while we're working, we can't avoid the habit of looking something up – can be a website, an article we want to read, a product, or whatever it is we opened in our PC. In this scenario, it's quite impossible to memorize the whole URL. Moreover, you can go and kind of memorize the gist of the article of course and take note of the website. But what if it's for a product that you've scanned hundreds of pages? What if it's for an article inside a blog with thousands of articles? This is where the idea of sending web pages from our PC to your phone comes in; yes, you can send webpages from chrome PC to phone.
Read: Want To Modify Facebook Search Bar Settings? Here's How To Do It
Sending a webpage from Chrome PC to phone?
Maybe you've found that review you've been thinking of all day; or that recipe you'll prepare for dinner. Whatever the reason is, the main point is you want to save that specific link or webpage so you can have access to it later.
There actually are a number of ways on how you can do this. In this article, we will be discussing both ways for you of course to weigh it and have the option which you're getting better. And I'm talking in general; I'm talking about both Android and iOS.
Google Chrome's native syncing method
If you're the type of person who doesn't want third-party applications ruining everything, then the classic syncing way of Google Chrome is the best thing for you. On your phone, open the Google Chrome app.
Once there, ensure that you have internet connection of course; tap on the ellipsis that pertain to More Settings. While there, tap on Recent Tabs. This feature allows you to see what tabs are open in Chrome on your other devices. Before you do this, read on the instructions below: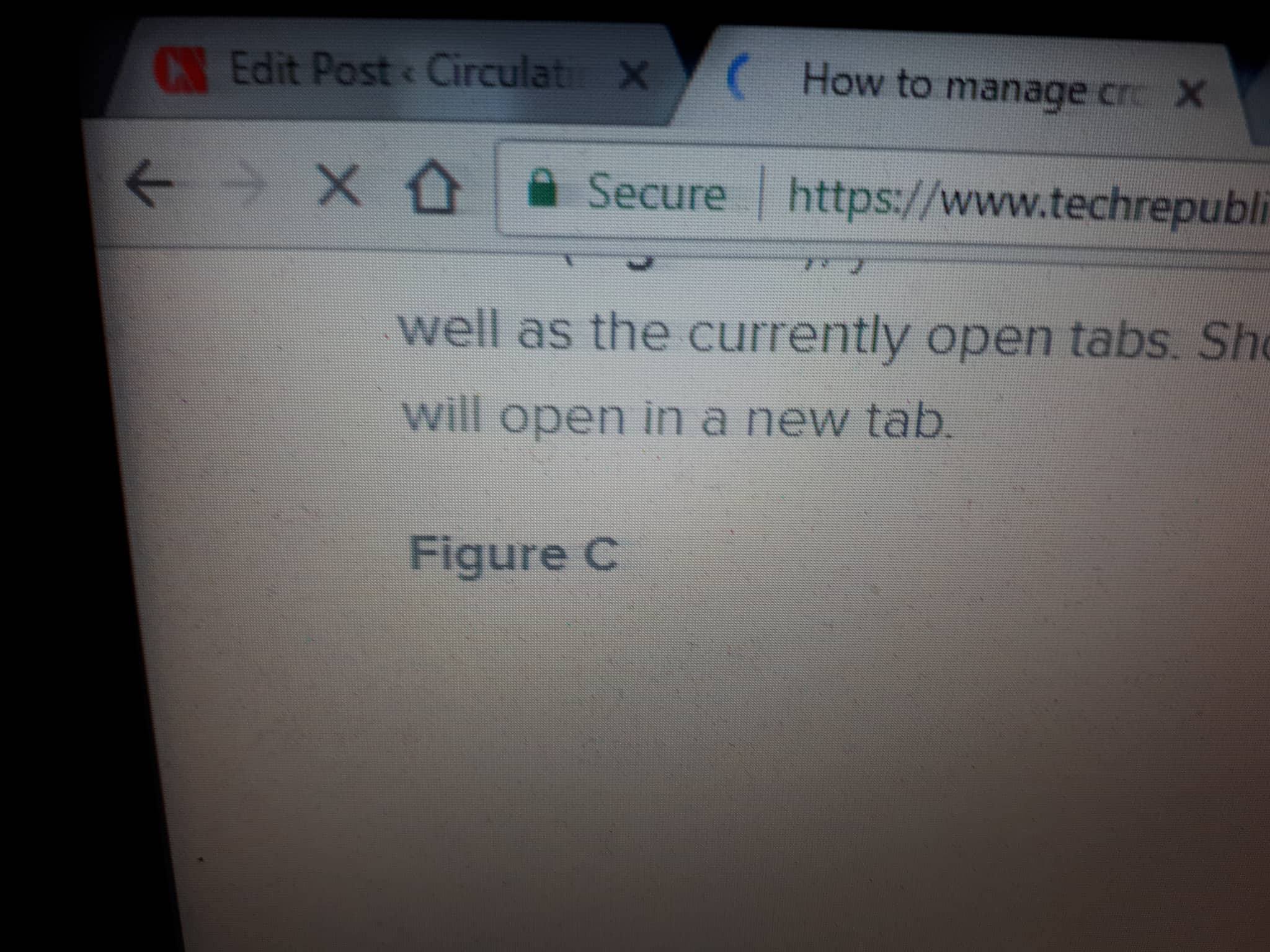 **NOTE: You may have to sync and re-sync your Google account to ensure that whatever is open on the browser would appear on your phone. You would have to sign in to your Google Chrome browser by hitting on the ellipsis (Settings) part of your browser Chrome on PC. Afterwards, you need to sync it. Make sure that open tabs are ticked to ensure that our goal for today is met and accomplished.
For a detailed guide on how you sync your Google Account on your PC and on your phone, read this article by techrepublic for a complete and detailed guide on how you can toggle between syncing your Google Account in your PC and in your phone.
If it's still not working, force close your Google Chrome app on your phone by going to Settings > Apps > Google Chrome and try reopening it again. On the PC side however, click on the ellipsis, untick and tick the open tabs check box under advanced sync settings, open your Google Chrome browser on your phone and there you have it.
You should now be able to see whatever websites are open on your Google Chrome PC on your smartphone. Thus, making our way of sending webpages from Chrome PC to phone possible.
That works flawlessly in Android devices, how about for Apple devices?
If you use a Mac and an iPhone, it's way easier to follow. Why and how? Because Apple has AirDrop. You can skip all of the steps you see above and just use AirDrop. With a page open in Chrome on your Mac, just go to File > Share > AirDrop.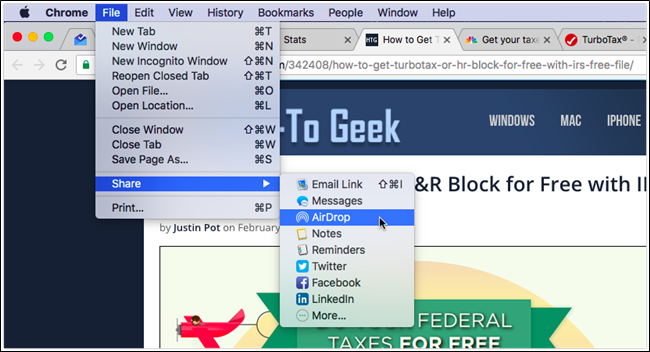 After doing that, there'll be a window that'll pop up. In that window, you just have to select which device you want to AirDrop the webpage to.
Those processes are guides wherein you don't need an extra program or application to support you. All you need is an internet connection, singing in to Google Chrome, and of course your two (2) devices.
Read: Cool Secret Functions That 90% Of Android Users Don't Know About
What if I want to use an extension?
Well by all means, do so. One of the best and fastest there is would be Pushbullet. Pushbullet is an easy-to-use and navigate program which will allow you to open whatever you have on PC as a webpage on your phone.
It's available for iOS and Android on the mobile side. On the PC side however, you would need to add it as an extension; you would need to install the Google Chrome Pushbullet extension.
So go ahead and install it on both your PC and mobile devices and sign up for the service. It's a user-friendly application so don't worry. After installing it, restart the browser on your PC and for the mobile device, head on force closing the Google Chrome browser application.
Once you have it running on both your PC and on your device, right click on the webpage you want to send out and just select Pushbullet. After clicking that, it will then be opened on your phone whatever the webpage you were selecting.
For Android users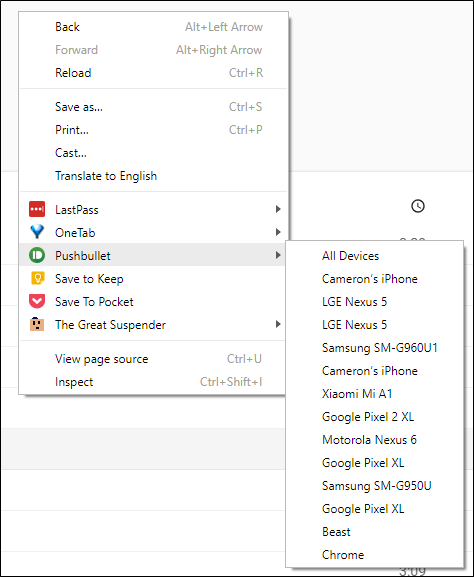 You will get a notification saying that a webpage has been sent to you Pushbullet application from a PC to your device.
For iOS users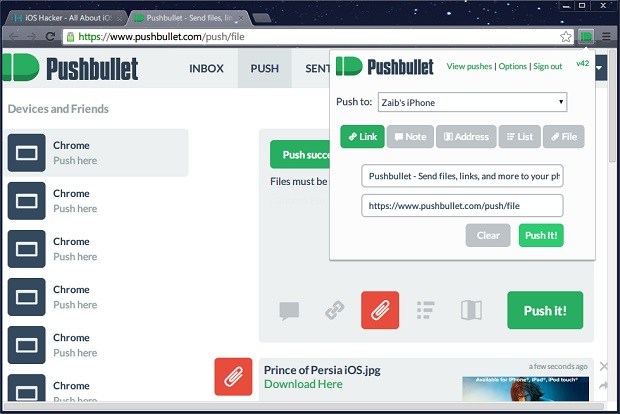 You guys will have to open the Pushbullet app manually to see the link. But that isn't a big of a deal since if you know you're sending a link, you would be alert as to whether it will really be sent to your phone or not, right? By the way, if you use an iPhone or iPad or whatever apple mobile or tablet device, the PC you will be sending it from doesn't necessarily need to be a MAC. 
These are the two (2) ways on how you can successfully save a webpage from your PC to your phone whether it's an iPhone or an Android phone. You can do this without you having to memorize the URL, the website where you read the piece, or the author, time, and date. You can actually do it by syncing it through your Google Accounts and through AirDropping from Apple devices.
Read: 7 Things That You Are Doing With Your iPhone
Important notes:
If you are to use the traditional Google Chrome webpage navigation technique, make sure that both your browser on PC and in the phone is properly synchronized. If not, you will just see that in the Recent Tabs, it will appear as Other tabs from other devices and it won't show a thing.
Apple devices however don't need a single sweat. All you need to do is to ensure that the AirDropping feature is turned on on both your MAC and you iPhone/iPad.
You can use Pushbullet by any means as it is the easiest and the fastest way on how you can toggle it. Make sure that you install it in both the PC/MAC and in the Android phone/iPhone. Missing one would not allow you to even send it through Pushbullet.
With this technology, you can easily transfer or send webpages from your Chrome PC to phone without any difficulty. The only difficult part for Android users is the syncing part. Once you get past that, it's just like riding a bicycle.