Piaggio Group, an Italian company and the maker of Vespa, also one of the world's largest mobility companies created an interesting cute robot that could and would follow its owner so that his hands are free because it can carry all your stuff.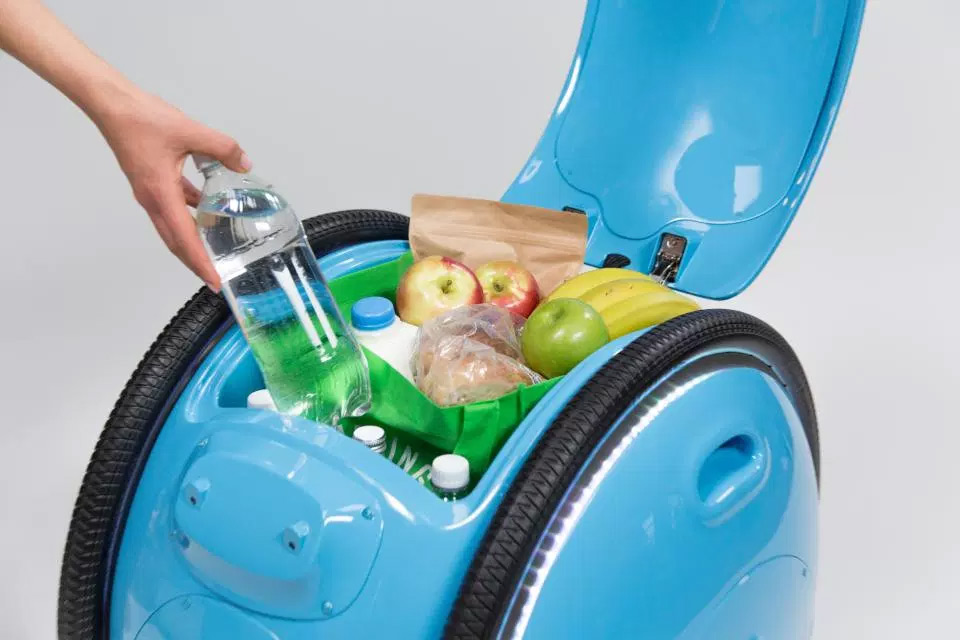 It was Jeffrey Schnapp and some of his colleagues who started this project and called it Piaggio Fast Forward (PFF).
They named the robot "Gita", an Italian word which mean "short journey". This bot will run after you as you walk or on your bike. The cargo of this bot can be locked using you fingerprint. This can roll after its owner on two wheels and speeds up to 22mph, that could carry items up to 40 lbs.
Gita is amicable and communicative and uses light, sounds, and touch screen interface to stay in touch. It creates a 3D-map of its surroundings using a network of 360-degree cameras to detect and avoid obstacles – it also has sensors on its round body.
It can navigate without supervision which means that it can go out independently between waypoints within a pre-mapped area to transport something. It can park itself on a safe spot once stopped while waiting for its owner to come back.
This bot can follow its owner without getting tired since it has a battery that will lasts for full 8 hours when operated at walking speed.
Gita's job is simply to carry your belongings. It can help you carry your groceries back home, carry your bag as you shop, or your things when you go out for a run. This innovation is a big help most particularly to elderly people to get around and still have their things.
There are speculations that Gita could be the primary target for next-generation purse-snatchers. However, Gita is well equipped with a fingerprint scanner only the owner can cipher its lock and not to mention the cameras on both sides.
PFF launched Gita to the world early this February but it's not yet sold in the market. The company is still planning a bigger venture rollout in the coming year. They are still working on perfecting Gita's driving skills, and still improving its computer vision and processing. The company is open to testers to decipher what Gita might be great for.
Now, say goodbye to your bags, luggage, and purses –say hello to Gita.