Cybercrime has been a major issue in the past years. As of the moment, it has been improving in a sense that a lot of them are spreading; most of them display as apps in the Play Store and we aren't even aware about it. These fake apps can penetrate into our security and can manipulate and even take our information including personal, professional, and financial information.
These criminals create listings that are designed like the apps we know of today. To site concrete examples, just last year, over 1 million users downloaded a fake version of WhatsApp, SwiftKey keyboard and VLC players.
Good thing was, the fake WhatsApp and SwiftKey keyboard was taken down a few moments before it went to the headlines. The imitation of the VLC app however was taken down a few weeks ago by Google; thanks to it being the top Android subreddit.
How do these apps trick people into clicking on it?
Besides the fact that it looks almost exactly like the apps that we know of, the developer name of the most distinguishable fake app, the fake WhatsApp is technically almost the same. Although there are not reports that these apps stole money from people, it was still used to make money and of course, is illegal.
Oh and by the way, who knows? Maybe these tricksters find ways on how they can penetrate through securities and protections and can one day take all of our information?
So how can you spot these fake apps?
All the time, we need to ensure that everything that goes into our devices are safe and free from malware and unwanted guests. Although Google is stepping-up into action in this case, they can only do so much and still, our safety relies on us alone.
Tech-savvy people, well, will have less of a problem here since they are more than aware of these occurrences. Moreover, they would know how to combat and to spot the fake ones.
But for those not-so-tech-savvy ones, you might as well do your research on who the developers are and what exact icon it has.
You need to invest a little bit of time and effort
Take this as an example, would you be able to spot the real and original BlackBerry Messenger (BBM) for Android app?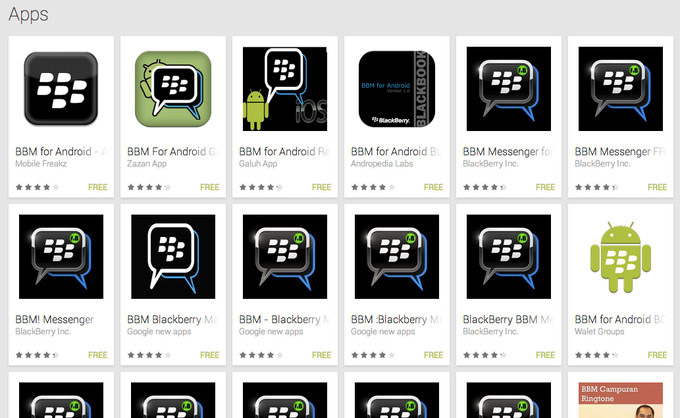 To tell you honestly, these are all fake BBM for Android apps. The real one? Well, it should look like this: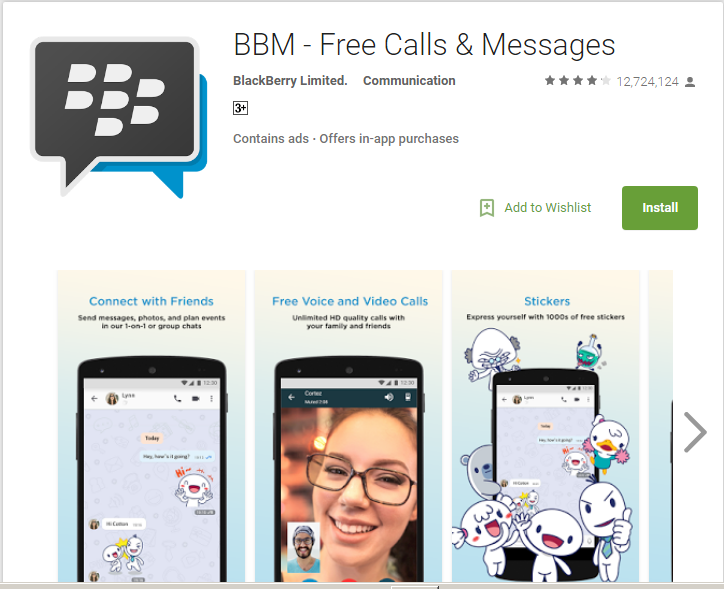 See that BlackBerry Limited? That should be the name listed as the developer not anything like Mobile Freakz, Google New Apps, etc.
Most of these fake apps will use the same name, icon, and even the developer. If you're stuck with that dilemma and you still don't have a clue which one the original is, then you go straight to the:
Download count
This will be one of your factors in determining whether the app you're staring at is legitimate or not. Let's take Facebook as an example, yes, there are over hundreds of fake Facebook apps in the Play Store and you should be aware of it.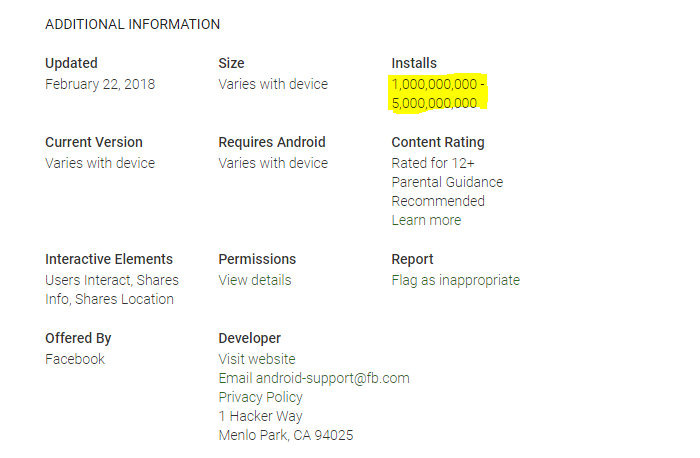 Facebook is one of the most downloaded applications in the Play Store with over a billion installations upon writing. Seeing an application that has less than a million would probably be a bit fishy, right? If you're still unsure of it, go and check;
More details or Additional Information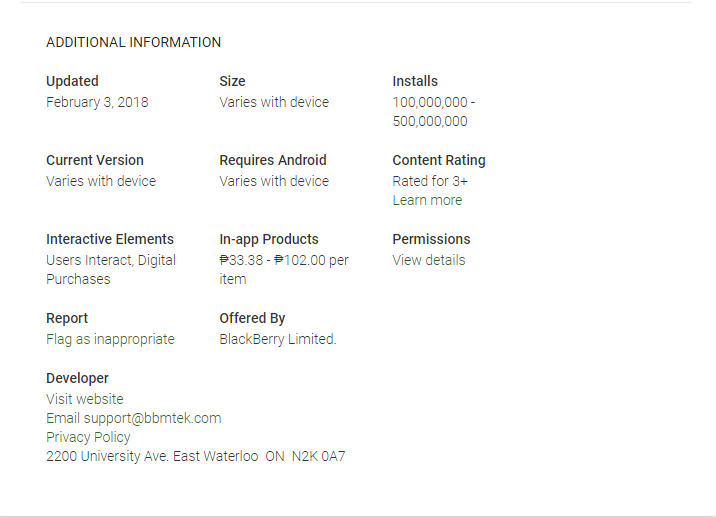 This is the section where you get to see:
When it was last updated
Size
How many installs it has
Compatibility with your current device
Content rating
Interactive elements
Permissions
Report; and lastly
The Developer
Have a rundown on everything that you see; Google it and see if there's anything suspicious about it. If it is, continue in searching for the real one. Otherwise, continue your download however if it's not, you know what to do.
If all of these things still confuse you, proceed in looking at the…
Reviews and Screenshots
This is an essential and a crucial step. In fact, you can dive right into checking this first. If you know what the interface of the certain app in question looks like, then checking this should immediately answer your question.
Most developers would offer a concise and direct benefit of what their apps are able to accomplish. That will be seen in the screenshots of the app upfront.
Take a look at this image for example: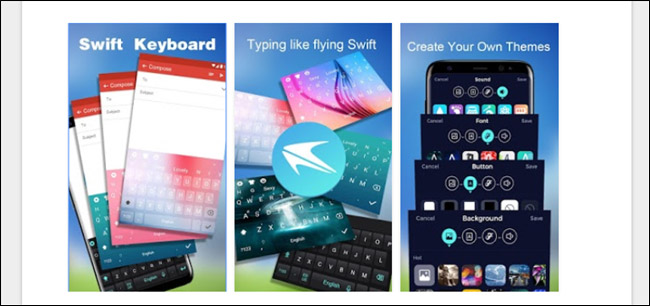 "Typing like flying Swift?" Does that even sound like a real sentence to you? If not, then you know that this thing is trash and continue your search. When it comes to reviews however, there would be biased reviews and not-so-biased ones.
Hopefully if it is fake, users should have had flagged and reported it but if not and it's you who made a notice of it, you just need to report it and warn other users in the event they come across this certain application.
Most of the time, these apps won't be the first apps in the Play Store since the original ones came first and had many downloads. However, if the time comes that you'll be under confusion, it's better to look back at this post and reevaluate.
To make things a bit simpler for you, almost all real apps can be seen on the first page or in the most downloaded apps area. Try to have your head around it.