Before you went to college, of course, you were required to take up an entrance exam, right? This is in order for a specific learning institution to be able to gauge what you knew from basic education to high school. Here in the Philippines, it's quite a big deal in finding and passing an entrance exam because it opens a great deal of opportunity to students.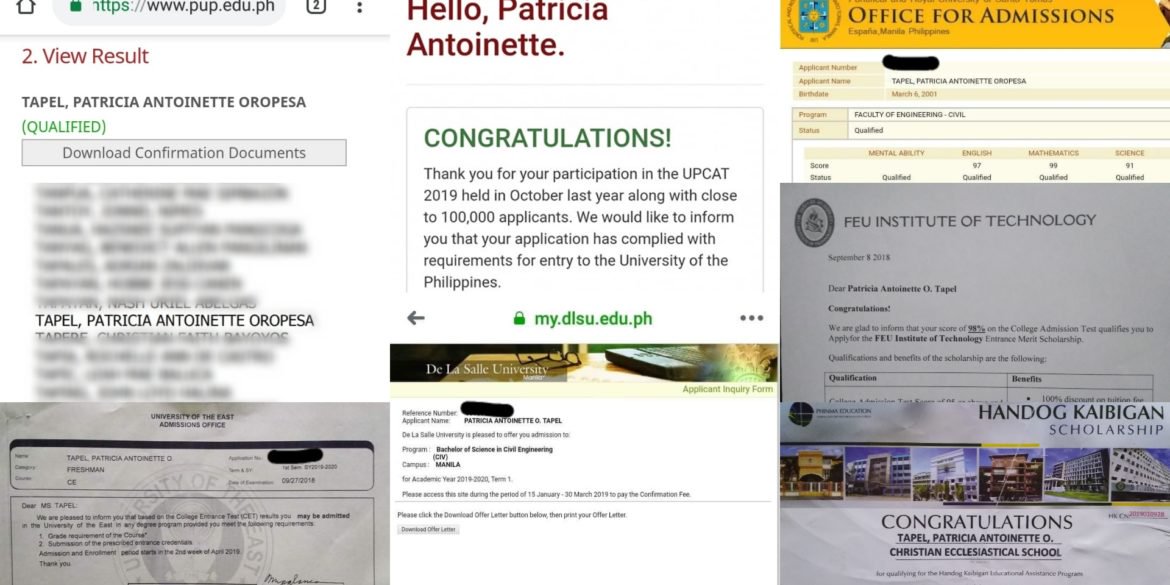 Just recently, a student who will be coming in as a freshman passed all of her ten (10) college entrance exams she took. It immediately went viral as people admired her for her excellence; she even gave tips on how students should take their entrance exams for them to pass.
Read: Why is Pound Abbreviated as "Lb?"
Who is this student?
The excellent student who was able to pass all of her entrance examination is Patricia Antoinette Tapel. It's quite evident that Patricia is a student of brilliance and excellence but if you knew which schools she passed, you might be surprised and even feel jealous.
Which schools did she pass the entrance exams in?
According to her post, she was able to take the entrance examinations in the following schools:
University of the Philippines;
University of Santo Tomas;
Polytechnic University of the Philippines;
Philippine State College of Aeronautics;
The DOST Science Education Institute Scholarship Program;
De La Salle University;
University of the East;
Far Eastern University;
Phinma-Saint Jude College; and
The Technological University of the Philippines.
Some people might think that Patricia is bragging about the fact that she was successful in passing the entrance examinations in these schools. However, that's not entirely what the case is. What she's doing is just she's hoping to inspire other learners of what she was able to accomplish. This is so that others can turn and look up to her in times when they think they can't pass assessments or entrance exams.
Read: 7-Year-Old YouTuber, Who Earns $22 Million Annually Will Have a TV Show
Students should always have a goal in studying—not just to pass assessments and to please their teachers. This is what Tapel explains in order to keep the fire of studying burning and to further students in their endeavors in studying.
Studying with a goal set in mind ignites a fire inside of you so don't let it die. You can do and achieve everything as long as you work hard for it. This is a great way to share your knowledge and have your friends to share their knowledge with you. And doing things with your friends makes it even more fun, right?"
Tapel said that taking the entrance examination's goal is not to pass; it's not able to guarantee the automatic passing of examinations to different schools that you wish to study in. It's some sort of a preparation to in taking and answering examinations.
It prepares you on what to expect in entrance exams and you can actually get a lot of helpful tips you can use on the actual exams. It also helps you realize what subject areas you need to work on so you can score higher on tests."
In addition to that, Patricia Tapel also recommended those who yearn for a scholarship to plan and think ahead of time. More so, she tried to put emphasis on the fact that every student should have a study habit or a study plan for themselves.
Set a strict studying schedule for even at least 30 minutes a day. This might not sound fun but if you make it a routine, it can actually help because hey, even the littlest of progress in studying is still progress."
Tapel's note on overstudying
Of course, there's never something good in being over anything. Tapel also explains that being stressed too much and overworked will do you no good. Relaxing and being happy is also a good additive in success, too.
Read: A Font That Could Improve Your Memory?
While studying hard is very important, relaxing is equally important too; Special note: Apply to every university you can so you will have a bunch of schools to choose from later on. Pls don't be lazy."
So are you down because of the fact that you can't get into the school you dreamed of all of your life? Don't worry, follow Patricia Tapel's tips and you'll surely be in the school you wanted.