Traveling is one of the main goals of people—it might be one of the main reasons why people work and have jobs. But what's the dream trip you've been eyeing on? A Euro-trip on the rail train across a few European countries? An Asian food trip that would be satisfying to both the eyes and tummies? Well, this 8-month cruise might just be the one for you—get ready for the price though.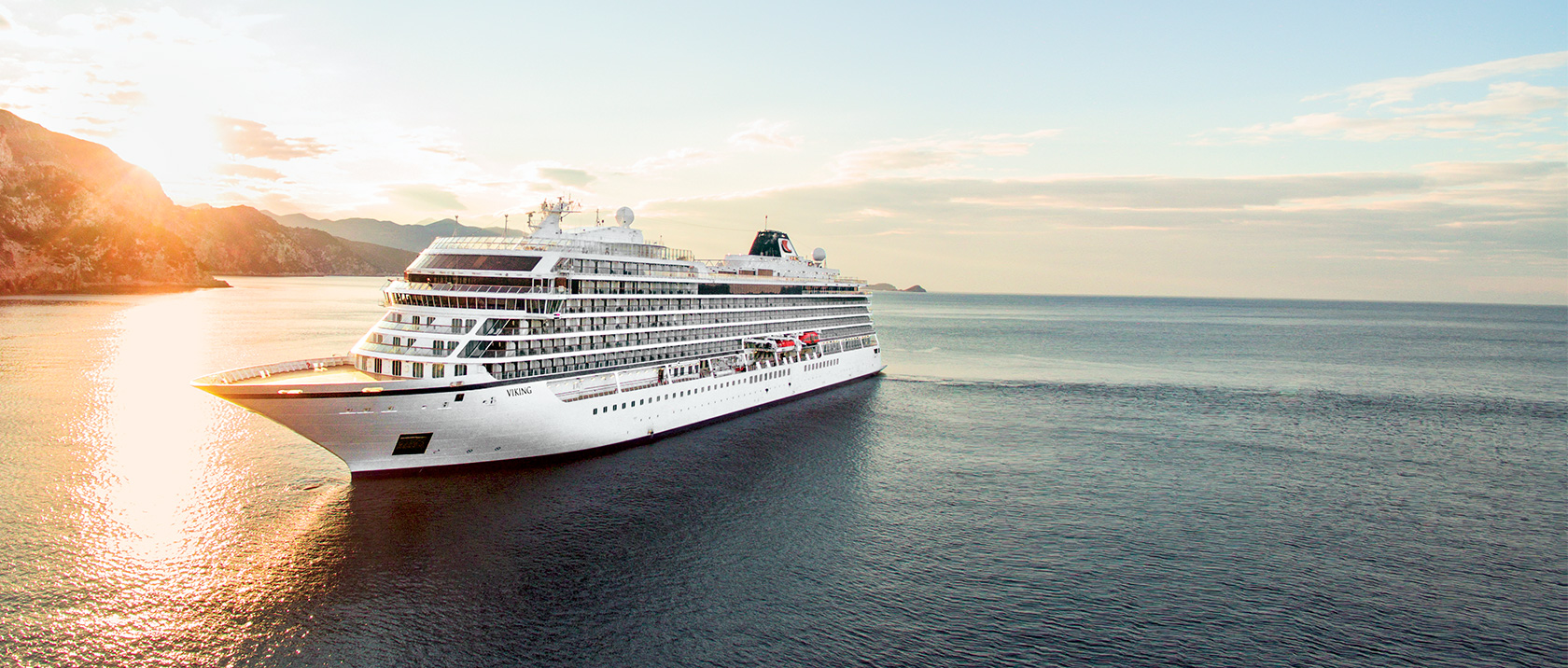 Read: Hiker Sees a Valley That Looks Like a Sleeping Dog
Viking Cruises, a world-class, topnotch cruise line has a special treat for people who are interested in taking a cruise! Well, last year, they announced that they have a special cruise for the rich—it is known to be the Ultimate World Cruise that will take guests all around the world!
How many countries would the cruise visit?
As per Vikings Cruises, the round-the-world journey will bring guests to a total of 59 countries and over 113 ports around the planet. Well, if you plan on joining, make sure you have a strong gut because the cruise ship will be your home for the next 245 days or eight (8) months!
If this will push through, it will be known to be the longest cruise ever to set sail. No cruise line has ever attempted this. In fact, normal cruises would take guests to a few countries and would be on sail for a few days to weeks. This, however, will make guests love traveling for they will be taken to 59 countries! Can you imagine?
8-Month Cruise Details
Are you now considering the cruise? Well if you are, you better be prepared for what's about to hit you.
Departure
The cruise ship is set to depart or leave in August of 2019. No specific date yet but people who weer able to book tickets would be alerted of when the specific departure would be.
Number of passengers
As per Vikings Cruises, the Viking Ultimate World Cruise will be able to hold approximately 1,000 passengers (including cruise cabin crew). Yes, it'll only be a few passengers but imagine the weight of it and imagine what amenities the cruise would have.
Read: Secret Messages Pilots Send Using Seat Belt Signs
Cruise Ship
The cruise ship is a staggering monster that is 745 feet long and is called the Viking Sun.
It will be able to accommodate 930 guests, the beam is 94.5 feet, and is considered to be part of the small ships class.
The Deck Plan
Based on what it's called, the deck plan is the designation of certain decks. You can view the PDF version of the deck plan here from Viking Ocean Cruises.
Interactive Deck Plan
There is an interactive deck plan available in their website as well. The interactive deck plan is the live view of each deck and what they have. You can view this by accessing this link here. You will be automatically redirected to that page.
Trip Itinerary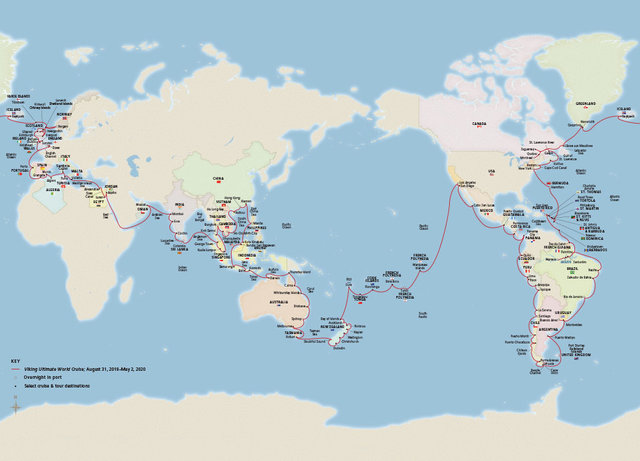 As mentioned above, the cruise ship departs from London. You will be heading west through the Arctic Circle and the British Isles going to Canada, down to the East Coast of the United States of America (U.S.A.).
After that, you will be heading and making a few stops to the Caribbean along the southern and eastern coast tips of South America—then you will dock in Los Angeles.
You'll circle the globe going to the South Pacific plus a trip to the Australian and the New Zealand lands and a coastal tour and view of South East Asia before eventually heading to India and Egypt.
As you can see, you will be traversing a lot of countries in this eight-month journey then you will find yourself in the jaws of the Mediterranean Sea doing a few stops along the coasts of Europe.
Click here to see the full itinerary of this cruise!
Trip highlights
Some of the highlights of the trip include overnight trips in the most extravagant and luscious cities like Mumbai, India, and Rio de Janeiro in Brazil.
In addition to that, if you want paradise, then paradise is what you will get when you visit flabbergasting places like Argentina, Ushuaia, Bora Bora, and Antigua.
Read: 39 Places in the World That Are Commonly Mispronounced
If you are a guest, then you have no excuse not to love the scenic places because each guest will be getting complimentary shore excursions in each port they visit—so, it's safe to say that the trip is really a one-stop trip for the adventurer.
Stateroom Features
The ship's verandas feature cutting-edge design and intimate ambiance. You will select your rooms and you can enjoy a lot of amenities and perks in their spacious Explorer Suites.
Read: Japan Lost an Island According to the Coast Guard and Here's What Everyone Says
You can enjoy the perk of using two (2) swimming pools, a Scandinavian spa, a one glass-backed infinity pool, outdoor terraces, comfortable lounges, and bars you can h**g out in as a part of their night life in the deck.
There's also a theater and eight (8) dining options of your choice. The good news? All of those are free of charge! So, you can just sit back, relax and enjoy your vacation.
How much is the ticket for this cruise?
If you are—in any way—interested in purchasing a ticket for you to be a part of this 8-month cruise, the ticket per person starts at an astounding $92,990! Can you imagine that amount? If we were to convert that into Philippine Pesos (PhP), it's around P4 million pesos!
If you want to try this cruise out, you'd either have to be rich, a traveler, or you need to have a company.
Traveling is one of the many hobbies of people to get stress off of their minds. In fact, some people work for them JUST to be able to travel. However, traveling should also be looked at in terms of finances, availability, and whatever is involved.
Read: If the Continental is a Bit Too Much For You, Here are U.S. Cities That Feel Like Europe
When does the 8-month cruise start?
The Viking Sun will set sail in August of this year so if you haven't got any savings yet, you still have a month left for it to become a reality.
Are you dreaming of traveling the world? Do you yearn to see what the world is like in almost all perspectives? If yes, then taking a cruise—this 8-month cruise might just be the perfect getaway package for you!
Try the Viking Cruise and be swept off of your feet!