Social media has been one of the mediums of sharing different stories, insights, opinions, and entertaining stuff. As a matter of fact, it is being used by individuals, even big companies in promoting what they have to offer. Just recently, a Chinese teenager saved 14 people from a burning building—he did that in just half an hour.
After rescuing people from a burning apartment, a Chinese teen crane operator has been praised and hailed as a true hero. As per reports from that incident, the fire, which started from a grocery store on the first floor of the building, has spread all throughout the building which affected the crane working on it.
This spat heavy smoke in which residents struggled to breathe and to escape their apartments.
Read: After 27 Years in Coma, a Mother Wakes Up and Calls Out Her Son's Name
Lan Junze, the Chinese teenager, was working at a site when he noticed the seven-storey building, the Liaoning burning.
He was a crane operator in the city of Fushun and was at the site when he saw that the establishment was being devoured by fire and smoke. With his quickest reactions, the 19-year-old crane operator drove to his crane to help those who were in dire need.
As you can see in the video, Lan was using his skills in operating the crane to aid the people in climbing down from the burning building. In the video, you will see that Lan saves 14 people from a burning building in lesser time that you would expect; he was able to provide safety for these people in just 30 minutes!
What did Lan do to save the people?
Lan Junze was rather a clever man to begin with. When he saw what was happening, he immediately went to the burning building using his crane and used it to get people out of the building as fast as he can.
As you can see in the image below, the crane was in place in catching and delivering people to their safety. From the upper floors of the building, the crane was used to lower the people and for them to be brought to the ground.
Read: 7-Year-Old YouTuber, Who Earns $22 Million Annually Will Have a TV Show
If you're thinking that what Lan did was easy, think again. The scene was not just a crane in front of a building, in fact, the complexity of what Lan did was extreme; wires, smoke, and some obstructions were between the crane and the building. Nevertheless, Lan was good because given the fact that he is just 19 years old, he had the guts to save people.
Lan said that when he saw what was happening, he did not think of anything else but to try and save the people.
At that time, I only wanted to save people. I didn't think of anything else, I didn't have the time."
Lan followed his gut and started driving the crane to the burning building, saving tens of lives of those who are living on the establishment. It's not easy to rescue people from a burning building but Lan managed to save 14 people from their ends in just half an hour
When this incident happened on the 4th of May 2019, Lan was recognized all over the Internet and he became a hero in just a day. In China's Youth Day, he was named as the "crane man" as he used the crane to save some people's lives from the burning building.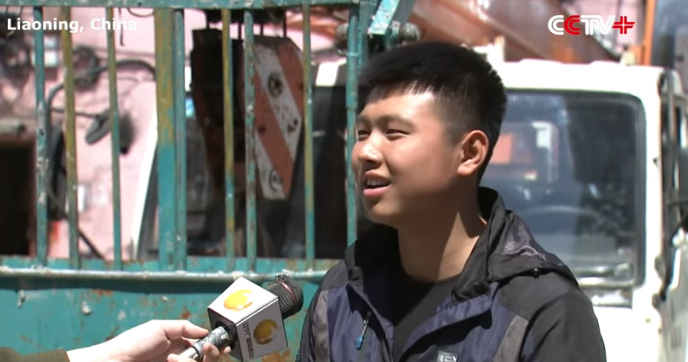 The Fushun Women's Federation, along with their local government, gave Lan and his family a reward with the title "Best Family," because Lan shared what his and his family has been practicing inside their houses.
Read: Man Experiencing Abdominal Pain was Found with 100 Nails and 263 Coins Inside Stomach
My parents have educated me since I was a child. When others face difficulty, I must lend a helping hand. This is what I should do. Now, everyone is safe!"
What Lan did was truly a heroic act of courage and determination. If it weren't for him, the people would have been burned with the building and their local government will be facing different cases and complaints.