Have you ever had stomach pain? It's quite a normal thing, isn't it? Especially if you ate something that is not that good. Moreover, there are times when your tummy won't be participating properly, leaving you with a bad tummy throughout the day. However, there was one man who had a complaint about his stomach feeling pain, and the doctors found out something odd and mind-blowing; what's there, in the man's stomach is 100 nails and 263 coins – that's what's causing him to feel the pain.
Metal objects inside a stomach? Is that even possible?
A man named Maksud Khan, a thirty-five (35) year-old three-wheeler truck driver, felt pain in his stomach. At first, he thought that it was just a standard, regular bad stomach. The thing about it is that, his stomach had been upset for more three (3) months and he kept on living it, thinking that it might just be a regular tummy ache. It got so bad one day that he went to decide to visit a doctor. When he was tested, the doctors were shocked with what they discovered. Apparently, Khan had an astound seven (7) pounds of metal objects inside his stomach.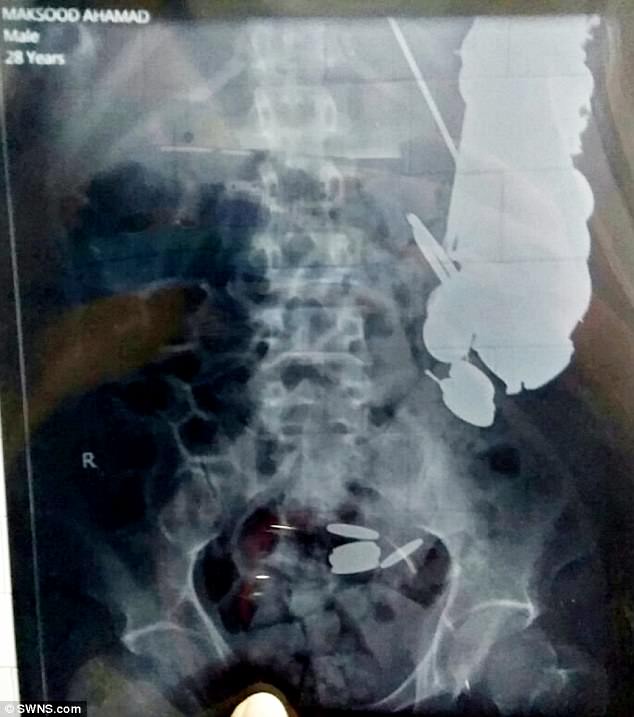 He was admitted to the hospital thinking he was victimized by food poisoning. However, doctors and surgeons found out that he had 100 nails and 263 coins inside his stomach. In addition to those, there were shaving blades, a six-inch piece rusted iron, and shards of glass. Sanjay Gandhi Hospital in Satna, India immediately took action to remove the said objects inside Khan's stomach.
They were successful in removing seven (7) kilograms (kg) worth of metal objects in his operation. Because of this, Khan's friends and family, including people in the hospital were astounded with the discovery of Khan's bizarre eating habits.
Because of this, they came to the conclusion that Khan had a series of serious mental health and this is why he committed such a thing. Dr. Priyank Sharma, the surgeon who led the team who performed the operation on Khan said that Khan was initially complaining of stomach ache. When they heard this, they knew what to do and that they had to really check what's inside his stomach.
The patient was complaining of stomach pain, so we thought of getting an endoscopy done. We were shocked to discover coins, nails, and nut-bolts in his stomach. It's the first time we've come across such a case in our career."
For about three (3) months, Khan is experiencing an upset stomach. According to his relatives, Khan, at some time, got hooked into depression and might have picked up the habit of crunching on metal objects. Khan's claim was that whenever his customers would give him coins, he would swallow them.
According to one family member of Khan, he congested coins using water whenever he felt like it. What's amazing and curious about this is that the coins and other metal objects did not cause any pain or problem in the first few weeks. It was then when it became constant that the pain and the problems arose.
Another doctor/surgeon who operated on Khan, said,
 The operation was done in the nick of the time as some of the nails lodged had pierced his stomach; caused bleeding and resulting in loss of "hemoglobin."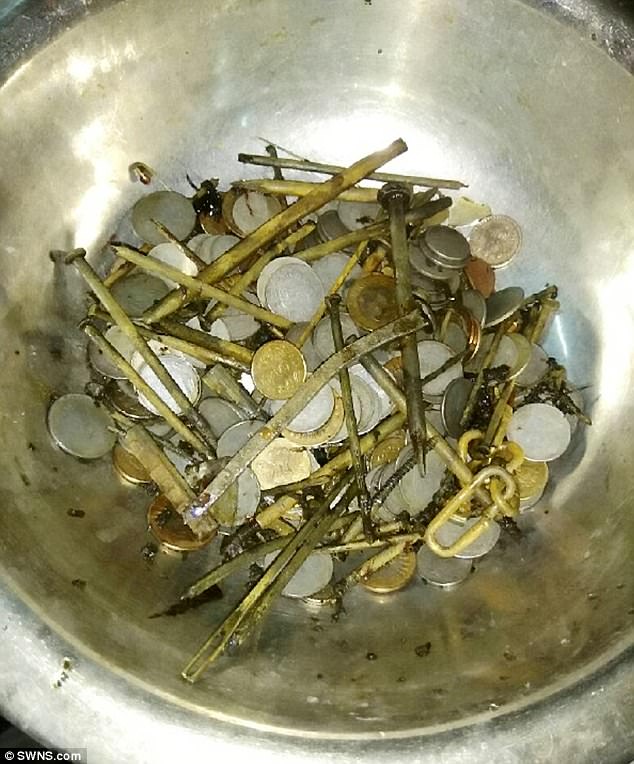 His stomach bled, causing different problems in other organs around it. From the time he started snacking on these unusual snacks, these things were accumulating, growing in number and eventually, it somehow caused troubles and problems on his insides.
Right now, Khan is out of danger. The operation was done smoothly and did not have any complications, to say the least. Furthermore, Khan made a promise not to munch and consume any of these objects ever again.
Although Khan was able to recover, it still dealt some damage in his organs, especially to organs neighboring his stomach. If you think that this is a single rare case among everyone, think again. Last 2015, a similar case was found out that a farmer, aged 34 years old, was found with a handful of metal objects.
Apparently, Khan isn't the only one with this condition,
Doctors were able to remove 150 nails, 40 coins, nuts, bolts, and also batteries inside the patients stomach. Rajpal Singh, the person who had the same unique condition, also developed the extraordinary habit when he developed depression.
To conclude, Khan, also Singh, was both depressed. As you can see, depression is not a joke; it can branch out to many different conditions which can lead to the destruction of organs, and ultimately d***h. As a matter of fact, this is just one of the few negative impacts of depression. Hopefully, both people will be able to get over their habit and fully recover from the condition they were in.