You might be one of the many people who loves drinking coffee on a day to day basis; more so, you might also be one who loves visiting Starbucks to energize their day. Well did you know? Just a few days ago, specifically on the last date of February, Starbucks opened their biggest branch yet. Their newest and biggest branch is a 32,000 square-foot roastery in Tokyo, Japan. So if you love Starbucks, you might want to add this location as a new itinerary in the places that you want to visit.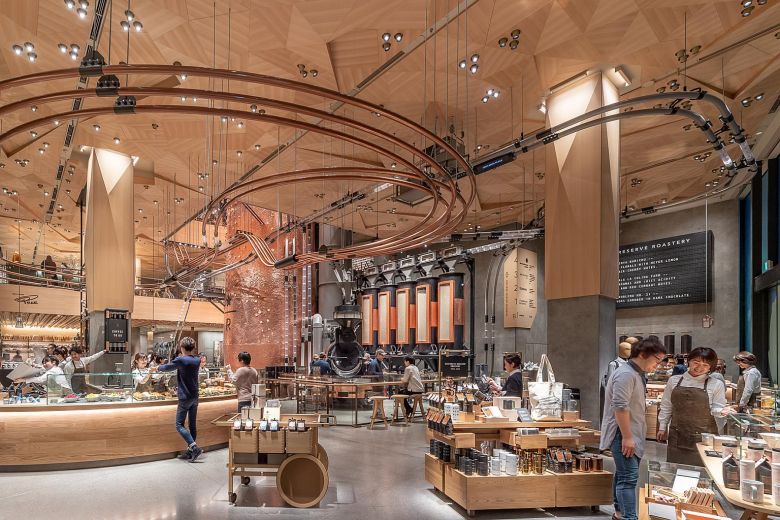 Do you love Starbucks? Do you love traveling? If that's the case, then what are you waiting for?
Where is it located?
When you know where the location is, I bet that you would scramble your way to it as soon as you can.
Read: 9 Places in the World That Are Commonly Mispronounced
Have you ever heard of the Meguro River? Are you aware of what that is?Well it's one of the famous place in Japan known for the cherry blossom trees that lines up along its bank. The new Starbucks? Well, it's just located adjacent to it; it's just beside it.
Isn't it such a perfect decision to build the biggest and the best Starbucks in this location? Well, if you were to ask me. Just imagine sitting there, drinking coffee with your loved one or perhaps with your family, gazing outside the window and seeing how beautiful the cherry blossoms are will surely give you that romantic and peaceful vibe. They even based some of the interior decorations of the roastery on cherry blossoms!
The newly opened branch, which is 32,000 square-foot in size takes over the current previous biggest Starbucks branch which is located in Shanghai, China.
All in all, Starbucks currently now has a total of five (5) roastery branches in total, one in Japan, Shanghai, Seattle, Milan and New York City. They also plan to build one more in Chicago.
But wait, what is a roastery?
A roastery is a place where you see coffee beans being processed and roasted. So, this Starbucks branch is a place where you get to see all of the action from preparing and processing the coffee beans to the point where you see them getting poured and crafted onto your drink.
Read: Thousands of Swedish Opted to Have Microchips Embedded to Replace ID Cards
Design and Interior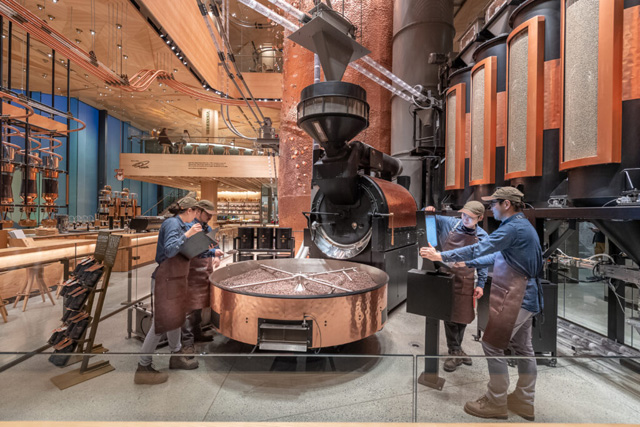 This four-story branch is a roastery designed from start to finish by a local designer from Japan named Kengo Kuma. To add to that, as we mentioned a while ago, he took the inspiration of the design of this specific Starbuck branch from cherry blossoms. This branch is one of the first to feature an "Inspiration Lounge" which events can be hosted at.
Yes, you've read that right, this specific Starbucks Roastery is open to events and gatherings. Thus, it can be treated as an events place where people can enjoy and get together with their friends and family.
Now similar with its other predecessors though, it also features a cask, standing at 55-feet which is the biggest in Tokyo.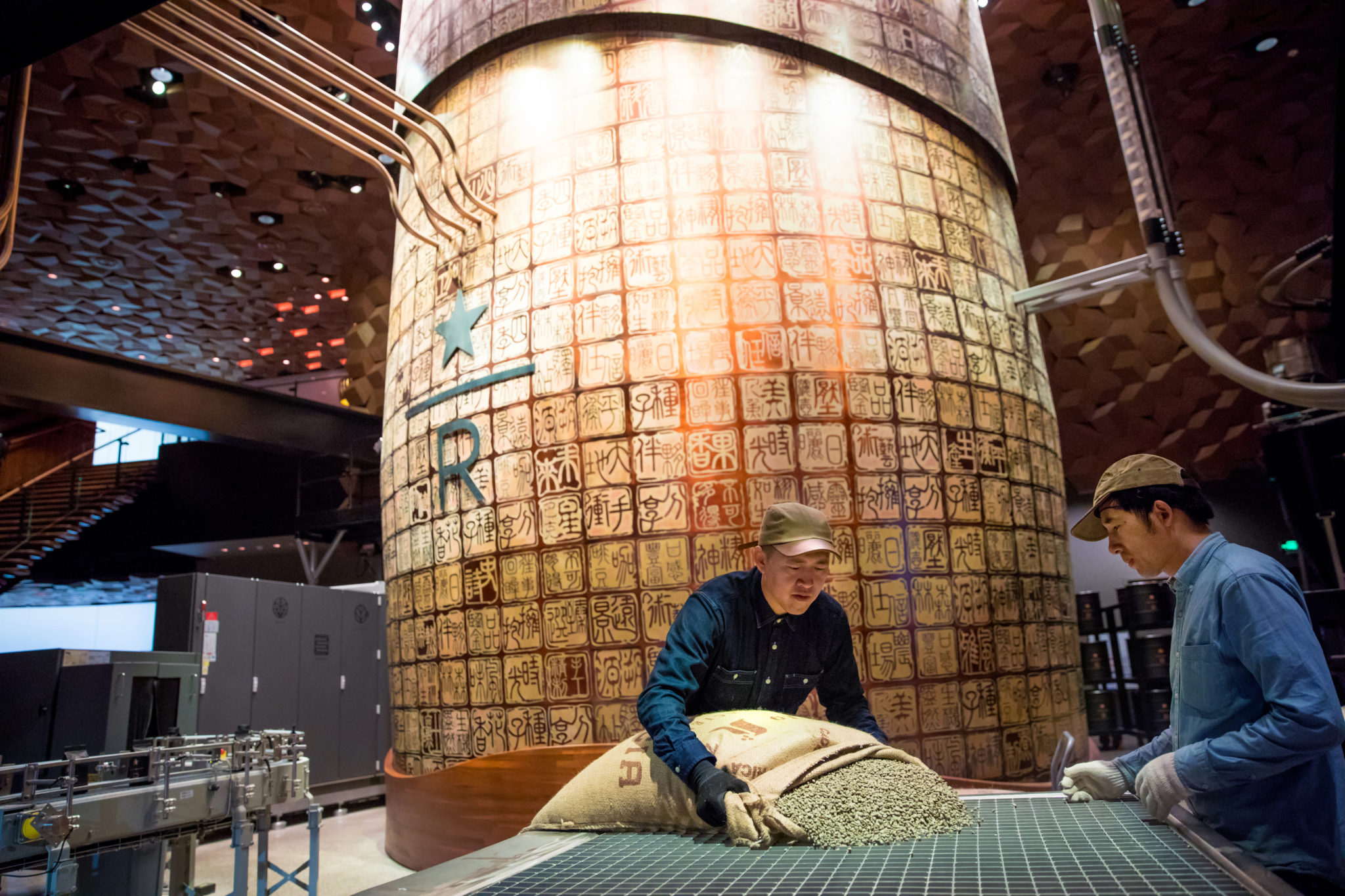 They also put in a clacker board to show and display what type of coffee is being roasted in the roasters. In addition to that, just the same with the others, an overhead pipe is linked with the roasters to spread and s***t beans all throughout the building.
With its design, we can truly say that it was derived from something in style. The sophistication of the store is evident and it will truly mesmerize all of the Starbucks fans and lovers from all over the world.
Read: The World's Oldest Hotel is in Japan and it is Operating for More Than 1,300 Years
Stores and Menus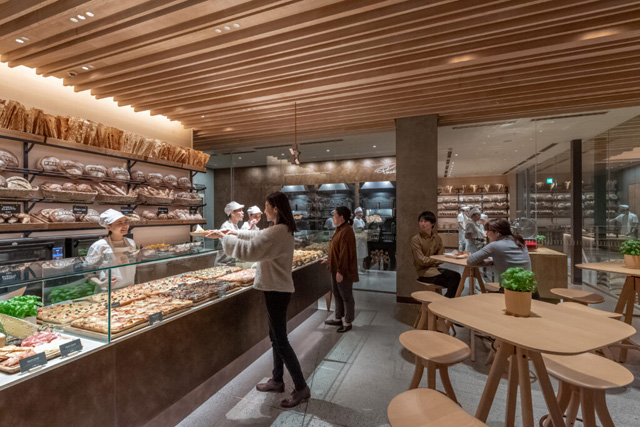 Since you see that the design is vibrant and elegant, we can get directly to the conclusion that the menus and the design is of the same kind, too.
We can really see how high-end the largest Starbucks is, not just in design, but even in the variety of foods and coffees they will be selling to their customers.
The branch is expected to have a menu of more than 100 unique coffee beverages.
Pastries, on the other hand, as well as the different types of bread they would sell will be supplied by Princi Italia, and this is one of its first kinds in Japan.
There would also be a floor dedicated for a Teavana Bar, which is one of Starbucks' newest features and inculcation in what they offer. And, unlike the others, this would be the biggest one as well in the world. You'll be able to get exclusive tea-based drinks there like the famous Pop'n Tea Sakura Jasmine. Sounds really delicious if you'll ask me.
There are still many to mention but since the new branch just opened up, we still might need to wait and see what other things they will be offering to the public.
Also, other than offering their customers a premium experience, they said the Roastery will also be an Innovation Lab that will be used to create unique beverages that will be showcased not just here, but to all branches and reserve bars as well.
Read: Reasons Why You Should Stop Eating Sushi
Should you visit the newest Starbucks roastery?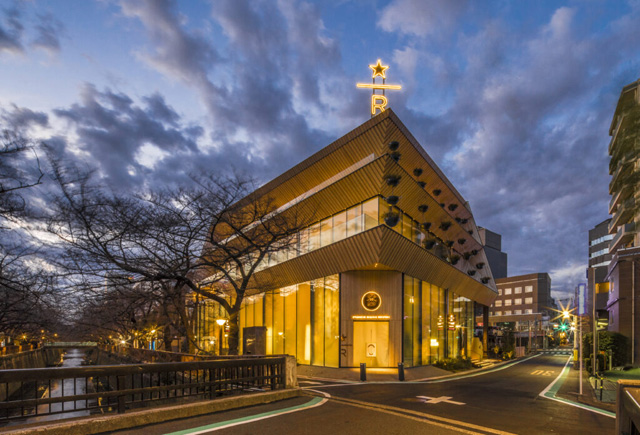 If you are fond of traveling and if you are a Starbucks lover, then what questions should you further ask? Visit this Starbucks Roastery in Tokyo now and enjoy the best Starbucks experience you will ever have.
Don't worry because this is not the last plan of Starbucks to establish a roastery like this. If you are from a far off place, who knows? Starbucks might build a place like this near your location so don't miss out!
So what do you think of this Starbucks' new branch in one of the busiest and most famous places in the world? Definitely, it's going to be a place to visit if you ever visit Japan. And if you're planning to, don't forget to jot this place down as one of the places to drop by and relax at.