On Saturday, April 29, the Philippines' President Rodrigo Duterte has been invited the visit the White House,  following a very friendly telephone call with US President Donald Trump.
It's been in everybody's knowledge that Duterte has been criticized and accused of ordering extra judicial k******s of d**g users and dealers and who offensively passed  judgment on Trump's predecessor, Barrack Obama as he calls him, 'son of whore' when he was asked how he would react if Mr. Obama raised human rights issues with him.  Duterte later apologized and his aides said his comment was an expression of frustration rather than a personal attack against the previous American President; however, Trump still embraces the authoritarian leader.
The two leaders discussed Duterte's controversial war on d***s, which have left more than 7,000 people dead in less than 12 months.  The crisis in North Korea, particularly the regional security threats was also raised.
In addition, Trump and Duterte also discussed how the Philippine government is fighting very hard to rid its country of d***s.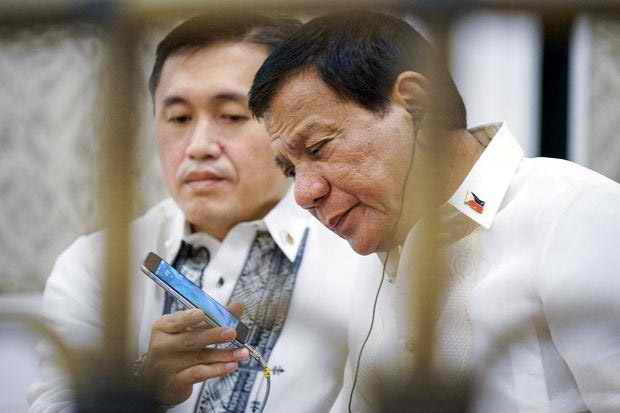 According to the White House, Trump enjoyed the conversation, and has extended an invitation – although a date has not yet been set.  He is also looking forward to visiting the Philippines in November to participate in the East Asia Summit and the U.S. – ASEAN Summit.
Trump, who was elected last year as the same with Duterte, has also said he would be happy to k**l the country's millions of d**g addicts.
Trump is no stranger to controversial comments either, including labeling Mexican immigrants as "rapists" and making derogatory statements about women.
Above all, Trump had praised Duterte's hardline standpoint on the campaign trail, after the Obama administration had condemned it.  Trump added that the aim of the visit will be a chance to discuss the importance of the United States – Philippine Alliance and these two countries are now heading in a very positive direction.
The two newly elected Presidents, who are most commonly treated and looked at the same, would be able to share stories in person.  Would Duterte accept the invitation of the billionaire President?  Would he be likely to support Trump's plans and endeavors for his country?