The Oregon couple Trystan Reese and husband Biff Chaplow will have their first child sometime this summer.  Seems normal?  Well, if you knew that one of them is transgender, your curiosity will rise up to a whole new level.
The couple was married in 2013 and already has two children in their 20's; both adopted from one of Chaplow's relatives.
Their baby is due in July.
They had been very open and vocal about their journey through their own social media account in hopes of spreading awareness.
"I have been having a blast being pregnant," Reese said on a recent episode of The Longest Shortest Time podcast. "It's been really awesome."
Reese anticipates strangers to do a double take when they pass on him on the street.  It makes sense, due to the fact that everyone has never seen a pregnant man.
"I can feel someone looking at my face and searching for the remnants of womanhood," Reese told The Longest Short Time podcast. "They kind of squint their eyes a little bit and I can tell they're trying to, like, take away my beard. They're trying to transition me in their heads."
Being a transgender man has its challenges.  It took the couple a while to get pregnant and they weren't sure it would work.  To conceive a baby, Reese had to stop taking hormones.  Like any other trans men, he took testosterone to make him look and sound more masculine.  But then, Reese had to stop taking testosterone for the first time in 10 years.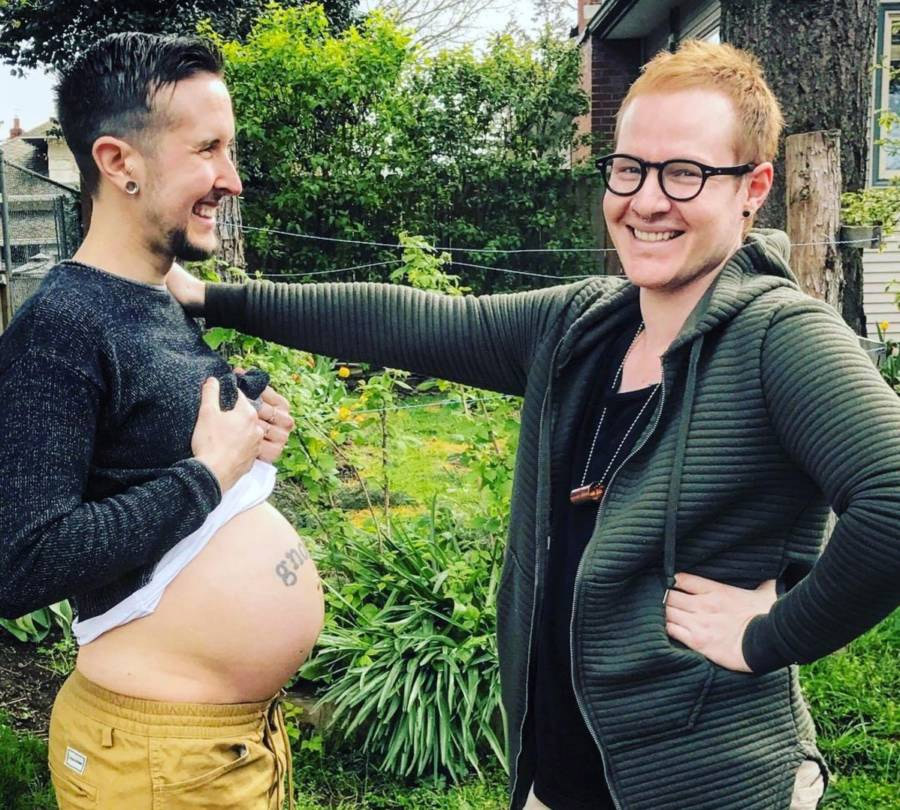 Reese became pregnant in 2016 but experienced one miscarriage in at six weeks. At first, Chaplow wanted to wait a year before trying to have another baby, but going on and off hormones would have been hard on Reese.  Because of this, they decided to try it again immediately.
Now, after all the adversities, Reese has conceived and anticipates a healthy birth.
Reese loves feeling the baby move, but going out into the world as a pregnant man? That would never be easy. They have this restless feeling about how people might react on their situation.
When Reese goes out, he typically wears baggy clothes or a long scarf to cover his belly.  He is really hiding his body to try and hide himself and the little baby inside.
"I know how to keep myself safe," Reese said. "I'm just trying to blend in on the train and get to work safely every day."
They are even triple-checked their clinic to see that they are prepared to treat a transgender patient…
To their surprise, the clinic went on and gave their utmost support.
"There hasn't been an ounce of trans-phobia from anyone I have come in contact with," Reese said of his experience at the doctor's office. "I expected to have to show extra ID, them to have to call their manager, all kinds of things and none of that happened. I went to go give blood at the phlebotomy lab, checking in with the person at the desk and she would type in my Medical Records ID and she is like 'OK you're here for the six weeks along blood test. Oh six weeks along. Congratulations you look good.'  I'm sitting there and I'm like 'did you not notice that I am a man?'"
He even had a hard time telling his mom about this.  It took at least five email drafts before he told his mom. "
Congratulations, I know you're going to be great dads," she replied right away. "There's no reason why only screwed up people should have kids."
The couple's two kids have reacted differently to the news.  The son is happy about the baby, but nervous, they said, about classmates finding out his dad is pregnant.  Hailey, their daughter, can't stop talking about the news.
She wants to tell everyone she meets that she has two gay dads, one is transgender and he' s pregnant. They appreciate Hailey's pride, but still they've had to talk to her about not sharing their story with strangers since not everyone is accepting of their family makeup.
Aside from sharing their story on the podcast, the couple shares updates through a Facebook page where they talk about their experience.
This issue received different reactions on the Internet; some people were quick to share insensitive criticisms.  While still conscious of his own safety and that of his family, Reese has decided to just stay quiet and respond hilariously.